Everyone has a basic human right to access sustainable energy and fresh water, KUDURA is about implementing renewable energy-based technologies within locally sustainable community-led business models to create opportunity for jobs, increased income and ultimately, the eradicating of rural poverty.
KUDURA means "the power to change" in Swahili.
Running reliably since November 2011
KUDURA has been operating reliably in Sidonge, Western Kenya
"It is now possible for governments across sub-Saharan Africa to look first to solar power as a solution for inexpensive, quick-to-build power, something unimaginable outside of South Africa until now." Philippe Le Houérou, CEO, International Finance Corporation
KUDURA is a green micro- or mini-grid-based solution (GMG – Green Mini-Grid) to sustainable rural development. It offers rural communities high-quality, sustainable and renewable energy and drinking water on an affordable pay-as-you-go (PAYG) basis. KUDURA is an integrated, containerised solution that is safe, reliable, weatherproof, designed and built to last 20+ years.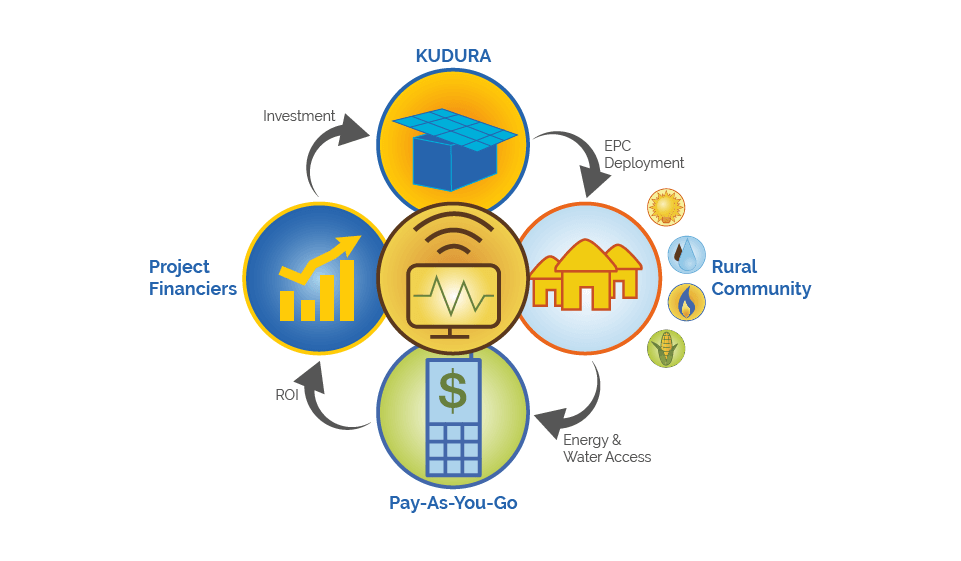 KUDURA is financed by governments, development banks and/or private businesses. Communities and small businesses pay for the energy and water services as they would from any other utility provider.
KUDURA was developed specifically for rural, off-grid areas. It is a proven, reliable, secure, high-quality infrastructure solution for the most rugged rural areas.
KUDURA is flexible and can be scaled to support anywhere from 50 homes and businesses to 1,200 individual rural consumers. Incorporating technology components from the world's leading manufacturers, it is designed and built for maximum quality and reliability to ISO9000 standards, setting the standard for off-grid energy and water solutions.
This product is ideal for our community. It takes care of their daily needs as well as provides the basis of stimulating the rural economy. It helps the community to help themselves.
Pronounced R-V-E-Sol, we are a GMG project developer that offers consulting, project feasibility, deployment, commissioning and operations & management services. 
We are a social entrepreneurship for profit focused on fighting rural poverty and empowering local businesses in Africa. We have developed the world's first customisable GMG solution to sustainable rural development, integrating purification of water, generation of biogas and mobile prepayment.
We believe that lack of access to energy is one of the fundamental perpetuators of rural poverty. Why is this important? Because millions of people are dying unnecessarily and poverty is a difficult cycle to break.
WHERE WE WORK?

Partnerships are fundamental to our success – from local organisations connected at the grass-roots level to international technology and know-how providers and public institutions that have an interest in seeing rural energy access meet Sustainable Development Goals (SDG) by 2030; we believe in the "sum of all parts" as being the most efficient way to reach scale.