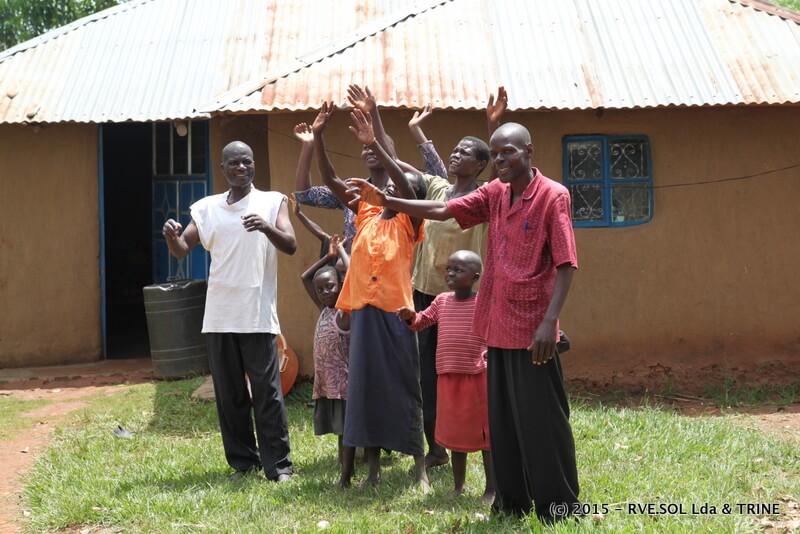 It's been Four years since our pilot project in Sidonge, Western Kenya first saw the light of day. During that time we've had our fair share of ups and downs, ranging from seeing people's faces light up with smiles when they turn on their light at home for the first time, KUDURA operators that turned out not to be as trustworthy as we believed, Management Committee members that had ulterior motives and the the birth of children at home in bright light, something that was a first there.
We had to hire an external consultant, if you will, that helped us to liaise with the community, assisted the committee with day to day cash operations and generally just guided things forward. Stephen Nakholi has been with us now for three years, and according to the community has been instrumental in not only keeping the project going but breathing new life in to it in a way that has transformed things radically. We recently published our wonderfully positive and often surprising social impact results, covering a range of direct expected outcomes but also a number of unexpected, transformative ones. You can read more about those results here.
On our recent due diligence visit to the community with Sam and Andreas of TRINE, I was even more surprised by what I saw. We had planned a visit to show the folks at TRINE what we have achieved and seal the deal on a crowd funding campaign to be led by them. The site has been impeccably maintained, new plants & trees have been planted, older ones are flourishing and the site is adorned with a new building. The sixteen year olds that hung on the fence watching us construct the site all those years ago have graduated from secondary school, and have embraced energy and water access as their channel to realising their entrepreneurial dreams. The building in question is a movie theatre!
Josephat and Nelson, twenty-something entrepreneurs and in business! They have installed DSTV (satellite), a projector and a large white screen. From 2pm, the place fills up with children and parents alike wanting to see locally translated movies, news and off course sports! The current Rugby World Cup currently fills the house as did the recent President Obama's visit to Kenya and off course every footie game is an opportunity to egg on your own team.
Setu Pelz sat down with them to analyze their business, looking to help understand why "we have so much money everyday yet we have nothing at the end of the month". The old cash flow paradigm – interesting results: 20KES per movie is affordable to the population but after the monthly cost of DSTV is considered (9000KES) the business model is under strain. After consultation they agreed to offer other value add services like chai, mandazi, cool drinks and beer. The higher margin "extras" will improve margins allowing them to take home profit to their families, pay school fees and generally improve their lives.
The week was interesting in that a number of other entrepreneurs have their own ideas for building their future: milk chilling to improve milk lifetime and path to market, water bottling to create a local brand for the community, chick hatchery to raise chickens in a controlled, healthier environment, a hairdresser for the ladies, a laundromat for their Sunday clothes and off course the ubiquitous cold drink!
The Trine team brought another first to Sidonge – drone photography. Yes! Here you can see Sidonge, our site as well as the surroundings, from up in the air all in glorious HD quality. Check out here, the smiles (and shock) of the kids brave enough to chase the drone while we were at their school.
Really, really exciting stuff. When I look back to our first photos in early 2011 and consider what I saw this past week it's truly incredible what basic energy and water access has done for the people of Sidonge. Our planned expansion project will break ground in December this year, lighting up some 50 new homes, creating space for 5-10 new businesses all entrepreneurially empowered by an upgraded KUDURA and a community cooled by always available fresh, potable drinking water.
BTW, Setu stayed in Busia while there and complained a number of times about not having power for his MacBook in the town while Sidonge was lit up, like every other night.